*******
Hi Jo, nice to meet you how are you, what makes gardening?
Hello Samy, also nice to meet you! Now is a lot to do in the summer, especially a lot of water like my plants.
Where is your garden?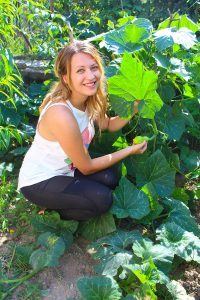 On a beautiful piece of land in southeastern Europe ….
What do you seed in the garden?
Mostly vegetables – tomatoes, cucumbers, zucchini, carrots etc. But I have also fruit. I have strawberries, raspberries, grapes and some trees – apple, peaches , plums and nectarines mines.
What does your neighbors seed in the garden?
There ,where is my village mainly are grown watermelons. But of course, my neighbors also seed many kinds of vegetables and fruits. Even cereals.
When did you start with gardening?
Soon – this spring. The reason was that I wanted my baby to eat real food, not chemistry!
Do you sell your products on the Farmer Market?
In fact, the products ,who I manufactured, I use mainly for personal consumption.
Who help you in your gardening?
Mostly my grandparents. They are familiar with gardening from many years.
How many square meters you managed?
Not much ,around 300 square meters. But they are fully enough for me.
Do you jam or even brandy from the fruit?
– Well yes! Exactly this week I did this – jam, compotes and more! I can not to make brandy so far, but my grandfather is an absolute master of brandy!
What fruit do you want to seed in the coming year?
I really love figs! So may be this will be my next tree.
How warm is the summer and what do you do when it is so hot?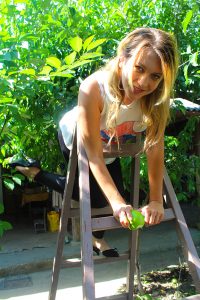 During most of the summer here it is very hot – over 30 degrees. About it my plants need constant watering!
If it rains sometimes?
This is good! Before for me was uncomfortable when it rains, but now I'm glad because nature watered my garden. 
Must you use a fertilizer in the farmersgarden or is the naturally enough?
Especially for fruits and vegetables that I grow, the natural soil is sufficient.
One last question: Do you sleep sometimes in your garden?
Ha ha! Actually not!
Jo, thank you for taking time for this interview and thanks for the nice and informative answers!
Thanks Samy – I'm always happy about your interest – do you want a box to take a tomato or melon, or both?
Oh Jo, i have two left hands – can you celebrete a nice dinner for us?
No problem ,Samy – you are welcome – cu later!
*******